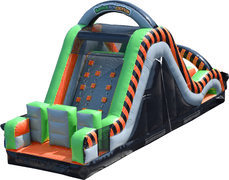 30' Radical Run Inflatable Obstacle Course - Part C
This great obstacle course is a full 30 feet long with over a flurry of different obstacles to clear!

Climb up the Inflatable 16 FT rock wall, then once you maki it up to the top, slide down the other side.
The perfect item for a birthday party, school, church event or a company picnic.
Call now and book early!
Requirements 1-15 amp circuits
Set up area 40x17