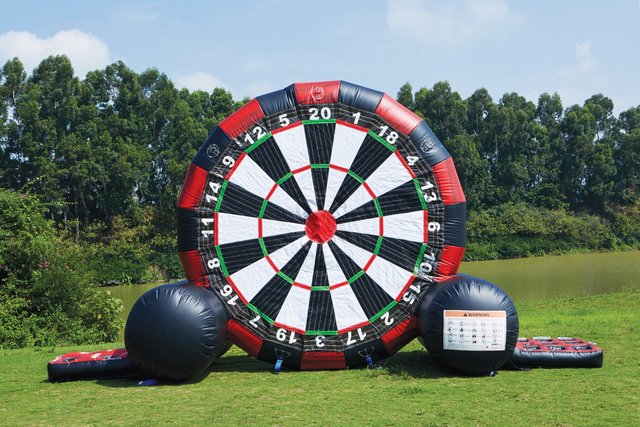 Multipurpose Giant Soccer Dart
Introducing our 4 in 1
Multi-Use 10 Ft. Soccer Dart
with
Side Game
,
t
his interactive game combines Soccer
Dart, Baseball Game
and Fold-able
Side Games (Tic Tac Toe & Drinking Game)
. The side game can be folded when space is limited. This game will be great addition for corporate events, fundraisers, or party rental businesses for backyard events. With 10 Ft. tall dart, it is good for ages 3 and up.
Soccer Darts is the most most fun darts game you will ever play! Step up with a few friends, by yourself, or even with your soccer team to try this fun new competitive sports game. Shaped and scored like a traditional darts board, the goal of the game is to kick a bull's eye! Keep score for your team and see who is the most accurate kicker of the group. Work on your low shots, high shots, or just kick for fun–either way this amped up soccer dart board will be a fantastic addition to your event.
Size Dimentions with side games 19'L x 9'W x 10'H
Size Dimentions without side games 11'L x 9'W x 10'H